Hi everyone!
Today, I'm going to be reviewing The Wicked Will Rise by Danielle Paige!
WARNING: I will be spoiling some parts of the first book Dorothy Must Die!
---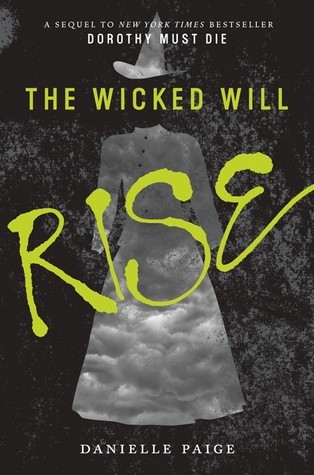 Synopsis:
In this dark, high-octane sequel to the New York Times bestsellingDorothy Must Die, Amy Gumm must do everything in her power to kill Dorothy and free Oz.
To make Oz a free land again, Amy Gumm was given a mission: remove the Tin Woodman's heart, steal the Scarecrow's brain, take the Lion's courage, and then Dorothy must die….
But Dorothy still lives. Now the Revolutionary Order of the Wicked has vanished, and mysterious Princess Ozma might be Amy's only ally. As Amy learns the truth about her mission, she realizes that she's only just scratched the surface of Oz's past—and that Kansas, the home she couldn't wait to leave behind, may also be in danger. In a place where the line between good and evil shifts with just a strong gust of wind, who can Amy trust—and who is really Wicked?
Review:
SO, this book was pretty great. Not what I expected, but still pretty great. This book was TO SHORT. And, I would have liked a lot more action.
Basically, this was Amy's journey to the Emerald City, without getting there until 20 pages before the end of the book… The new characters were so much fun, and that definitely boosted up my rating.
The monkey palace was really cute, and Dorothy was more annoying then ever!
I felt like this book was not as very much involved with the main characters from the original Wizard Of Oz as much as the first book was.
I personally feel like since this book was super short, she could have made this book series a duo-logy and just made this book a lot longer.
A lot of the things in this book were SUPER confusing, and were still not answered.
Overall:
3/5 stars.
---
I hope that you enjoyed this book review!
Good Night Book Owls!
---